Simon Blog: Talent Connect
---
From challenge to opportunity: The benefits of hybrid learning
April 14, 2022 | By LaTanya Johns
 
Each of us has a story about the week the US locked down – where we were, how the news arrived. In the months that followed, all of us – Simon included - found ourselves trying to conduct business as usual when the world was anything but usual. 
We also have stories about the various ways we learned to adapt, adjust, and even thrive. More time with our families. A new hobby. Greater appreciation for the little things. And for businesses and business schools, the identification of new opportunities to improve our offerings and how we deliver them.
Providing more than just academics.
The student experience is a vital part of Simon's educational offering. Our social and academic clubs, hands-on learning opportunities, international treks and immersions; they all work together with our rigorously analytical curriculum and career support offerings to provide a holistic approach to business education that prepares students to lead. There's also a human element to our student experience. Simon is a tightly-knit community, one that is small by design, where students form friendships and networks that support them both during their education and throughout their careers. That sense of community, the rich, interactive student experience – how could we replicate that in a remote learning environment?  
If there is one thing business leaders know, it's that challenges inspire innovation; they invite opportunity. With that in mind we asked ourselves, "What if we aren't losing what makes us Simon; what if we've been given the opportunity to stretch and strengthen it?" Our incredible Office of Student Engagement showed both its agility and its unwavering commitment to our students by rolling out a wealth of virtual offerings which enabled students to not only maintain, but strengthen their connections to one another and to Simon. Socially distant on-campus events were a huge success. We even managed to execute a memorable, yet entirely virtual, commencement event that was one of our favorite events to date. 
Turning challenges into opportunities – the Online MSBA.
Part of Simon's appeal to students is our ability to speak to the transformation going on due to digitization and technological changes and incorporate the newest advancements in business models. Even before the pandemic, Simon had begun exploring ways to deliver education online more effectively. Rochester is not a large market. Virtual learning and connectivity enable us to widen our reach well beyond our geographical location. We carefully considered the way students learn and how they want to engage – cognitively and pedagogically – and took a very intentional approach to the design of our online learning. When the pandemic hit, we simply accelerated our plans and then incorporated everything we learned from the experience into the next chapter of online learning. 
At Simon, we are ensuring that our offerings go further; that we are providing educational experiences that increase value, not just match it. 
Our Online Masters in Business Administration (Online MSBA) was underway before the pandemic, but we used what we learned from our unexpected pivot to enhance this offering. This program targets an underserved market – mid-career business managers who may not otherwise have the bandwidth to pursue a graduate degree. Our online program makes it possible for them to gain the technical and management skills needed to lead their organization at the next level. 
The move to remote delivery during lockdown helped us identify opportunities to engage in new ways. We're putting what we've learned to work with the Online MSBA, which mixes both synchronous and asynchronous classes. It also offerings in-person events to help students build meaningful relationships with faculty and classmates, and benefit from Simon's strong sense of community. This new mixed-modality approach offers experiences that blend physical and virtual environments so that students can learn from anywhere. This is especially valuable for working professionals.
Inside hybrid learning at Simon.
Hybrid learning will continue to be an area of opportunity for Simon. Our faculty excel at creating a hybrid learning experience that ensures our academic experience remains rigorous, and prepares students for the evolving – and increasingly challenging – business world. Our offering of a combined online (asynchronous content) and in-person (synchronous content) program was designed to accommodate each student's unique situation. 
Simon also created the position of Director of Instructional Design, who lends critical expertise in this area. Students may learn at their own pace, following their own schedule. For the synchronous content, participation during class times is expected. Students may participate either by being in the physical classroom or attending via Zoom. All classes are recorded in case an underlying health issue, sickness, or a personal emergency arises. 
Hybrid learning comes with the benefit of increasing accessibility for students on a local and global level, and new opportunities continue to emerge. 
Connect with me today to learn more about our Online MSBA and how it can benefit you or your team members, or to learn more about special offerings for our corporate partners. 
---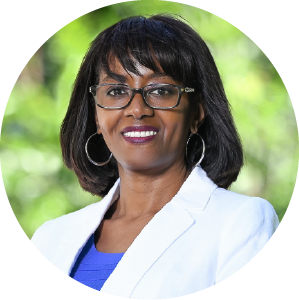 LaTanya Johns is the Assistant Director of Professional Development at Simon Business School's Jay S. and Jeanne Benet Career Management Center. 
---
To view other blogs in this series visit the Talent Connect Main Page