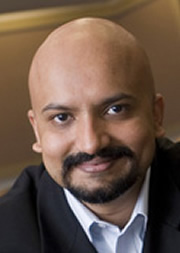 Wesray Professor of Business Administration
Professor in Accounting
Bio
Professor Jayaraman is the Wesray Professor of Business Administration and Professor of Accounting. Professor Jayaraman's research interests are in corporate governance and the effects of accounting information in financial markets. His work on corporate governance examines how large shareholders discipline managers via the threat of exit, and the role that stock market liquidity plays in the design of executive compensation contracts.
Courses

Contemporary Topics in Accounting Research

Managerial Accounting and Performance Measurement

Reporting Analytics in Financial Markets

Managerial Accounting

Positive Accounting Research Concepts and Empirical Analysis Tools
Research Interests

Professor Jayaraman is currently interested in the informational feedback-effects of stock prices on managerial decision-making. In recent work, he has explored the functioning of financial institutions and the propagation of shocks between the banking and industrial sectors.

Professor Jayaraman's publications have appeared in the Journal of Accounting & Economics, Journal of Accounting Research, Journal of Finance, Journal of Financial Economics, Review of Accounting Studies, Review of Financial Studies and The Accounting Review. His work has been presented not only at academic conferences within the U.S. and around the world, but also at regulatory bodies such as the European Central Bank and the Federal Reserve Bank of New York.
Teaching Interests

In addition to teaching a Ph.D. seminar, Professor Jayaraman also teaches Strategic Cost Analysis in the Executive, and MBA programs.
Publications

Product Market Peers and Relative Performance Evaluation

2021

The Accounting Review

Good Buffer, Bad Buffer: Smoothing in banks' loan loss provisions and the response to credit supply shocks

2020

Journal of Law, Finance, and Accounting

Should I Stay or Should I Grow? Using Voluntary Disclosure to Elicit Market Feedback

2020

Review of Financial Studies

Is Silence Golden? Real Effects of Mandatory Disclosure

2019

Review of Financial Studies

The Source of Information in Prices and Investment-Price Sensitivity

2017

Journal of Financial Economics

Cross-Border Financing by the Industrial Sector Increases Competition in the Domestic Banking Sector

2016

The Accounting Review

CEO Equity Incentives and Financial Misreporting: The Role of Auditor Expertise

2015

The Accounting Review

Exit as Governance: An Empirical Analysis

2013

The Journal of Finance

Agency-based demand for conservatism: evidence from state adoption of antitakeover laws

2013

Review of Accounting Studies

Private Control Benefits and Earnings Management: Evidence from Insider Controlled Firms

2012

Journal of Accounting Research

Audited financial reporting and voluntary disclosure as complements: A test of the confirmation hypothesis

2012

Journal of Accounting and Economics

The effect of enforcement on timely loss recognition: Evidence from insider trading laws

2012

Journal of Accounting and Economics

The role of stock liquidity in executive compensation

2011

The Accounting Review

Earnings volatility, cash flow volatility, and informed trading

2008

Journal of Accounting Research