Apply to one of the country's top MBA programs with a marketing specialization.
Marketing is critical for any organization.

Regardless of the business you're in, staying ahead of your competition means understanding the customer. At Simon Business School, our MBA marketing track uniquely addresses digital marketing and works to further your career no matter what type of organization you wish to work in—for-profit or non-profit, B2B or B2C, multinational enterprise, or startup. In addition, Simon MBA students have the option to pursue a STEM designation signaling data-focused rigor to future employers and granting international students the possibility to extend Optional Practical Training (OPT). 

If you're looking to advance your marketing career in brand or product management while sharpening your skill set with the latest data-analysis and digital marketing techniques, you've come to the right place.
Learn about MBA in marketing jobs »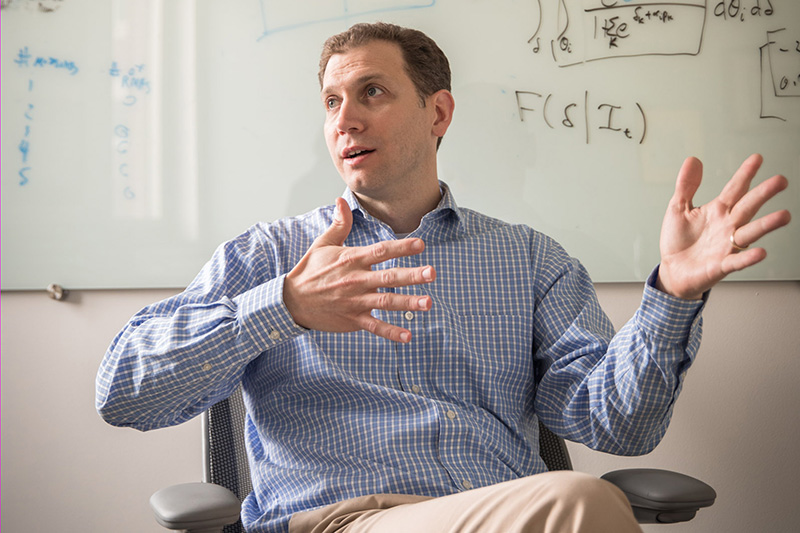 Learn from world-class marketing MBA faculty.
Simon professors are noted experts, renowned researchers, and accessible mentors. Many MBA marketing courses are taught by faculty who are producing groundbreaking marketing research—expertise that will percolate into your lectures and class discussions. Your faculty's deep knowledge and practical industry experiences will fuel your passion for marketing and build your understanding of the innovative and streamlined nature of 21st-century practices.
Simon's faculty have expertise in digital marketing, pricing, product innovation, retailing, competition, and customer segmentation. This range of marketing areas will help you to become a well-rounded MBA graduate who understands the greater marketing landscape and is fully equipped for a successful career.
Specialize your MBA in marketing.
You can choose from two marketing specializations: brand management and product management. Both of these academic paths will:

Allow you the option to graduate with a STEM-designated MBA degree
Provide a degree addressing digital marketing topics in multiple contexts
Share Simon's expertise in pricing and commerce
Teach you how to analyze large data sets for profitable pricing strategies

In addition to the solid business foundation that an MBA degree offers, specializing your MBA in marketing allows you to pick up the analytical skills and fundamental industry knowledge needed for your future career in marketing management.
Click the specializations below to see required courses, which you'll take in addition to Simon's core MBA curriculum and electives.
Effective brand managers must be able to make seamless transitions between qualitative, quantitative, creative, and analytical competencies. As part of Simon's MBA marketing track, the brand management specialization will turn you into a results-driven marketer with attributes that allow you to influence internal and external audiences. In addition to Simon's core curriculum, your marketing-specific courses will include:
MKT 412
Marketing Research
MKT 412
MKT 414/STR423
Pricing Policies
MKT 414/STR423
MKT 421
Advanced Marketing Strategy
MKT 421
MKT 440
Pricing and Market Analytics
MKT 440
MKT 441
Brand Management Workshop
MKT 441
MKT 432
New Product Strategy
MKT 432
MKT 433
Advertising Strategy
MKT 433
MKT 435
Channels Strategy
MKT 435
CIS/MKT 437
Digital Marketing Strategy
CIS/MKT 437
MKT/STR 439
Advanced Pricing
MKT/STR 439
As part of Simon's MBA marketing track, the product management specialization will train you in all aspects of product positioning, from evaluating the competitive landscape for challenges and opportunities to developing and executing marketing strategies. Prepare for a marketing career where you will be a member of cross-functional teams that often include finance, research and development, packaging, operations, and supply chain executives. In addition to Simon's core MBA curriculum, your courses in marketing will include the following:
Click each tile below for a brief course description.
MKT 412
Marketing Research
MKT 412
MKT 414/STR 423
Pricing Policies
MKT 414/STR 423
MKT 421
Advanced Marketing Strategy
MKT 421
MKT 432
New Product Strategy
MKT 432
MKT 440
Pricing and Market Analytics
MKT 440
CIS 413
Managing Digital Products & Platforms
CIS 413
CIS 417
Introduction to Business Analytics
CIS 417
CIS/MKT 437
Digital Marketing Strategy
CIS/MKT 437
ENT 423
New Venture Development
ENT 423
GBA 435
Negotiation Theory and Practice
GBA 435
MKT/STR 439
Advanced Pricing
MKT/STR 439
MKT 433
Advertising Strategy
MKT 433
MKT 436
Marketing Analytics
MKT 436
STR 403
Organization and Strategy
STR 403