Simon positions you for career success.
Simon's Jay S. and Jeanne Benet Career Management Center is committed to the success of every student. We believe that career development is a continuous learning cycle, and that your personal and professional development continues over the lifespan of your career. That's why our program guides you through learning components that prepare you to manage your career progression for years to come. 
Click below to dive into career paths for each of our MS programs.
A fully-endowed Career Management Center.
Simon proudly boasts a fully endowed Career Management Center. Our career education and professional development model focuses on ongoing innovation and evolution and shifts with the changing marketplace so that we–and you–can remain on the cutting edge.
Our Approach
Career enhancement is of primary importance to our students. Whether you are just starting out, or exploring new options, Simon's Benet Career Management Center (Benet Center) is here to partner with you in:
Onboarding
This process begins before you've even set foot on campus, with an introduction to the Benet Center and its team members.
Orientation 
Our orientation program is differentiated for Masters and MBA students, so your journey structured specifically for your academic experience.
Ongoing 
This is where you'll align with professional development opportunities through Career Action Teams, Alumni Spotlights and Corporate Information Sessions, as well as gain access to certification training, experiential learning initiatives, and national vendors like Wall Street Prep. 
Outbound 
As your educational journey concludes, you will step away from the Simon Business School with skills and experiences that will equip you for life-long career success.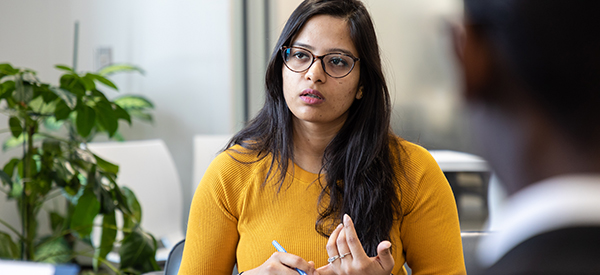 Career Management Programming
At the Benet Center, we are always innovating and evolving. We use cutting-edge practices and technology to ensure that you're prepared for the graduate level professional opportunities that await. Through networking opportunities, résumé development and mock-interview workshops, we provide comprehensive support and training that positions you for a job at graduation.
Our Career Action Team will partner with you to shape your aspirations and make you better tomorrow than you are today.  We'll assist you as you work to execute job search strategies, prepare for interviews, negotiate employment offers, and more. 
MS Career Directors
Our MS Career Directors begin working with you even before you set foot on campus. Over time, they'll come to know your technical and leadership skills, your career aspirations, and guide you on how those unique attributes can position you for success. Your Career Director can help you assess your background, explore your options, develop positioning materials, apply for positions, and will support you as prepare to interview.
Body
Top Career Destinations
Simon Business School is globally focused; we have one of the most diverse student bodies of any business school, and our career development strategies reflect our domestic and international reach. Whether you're exploring professional opportunities within the US or across the world, we will help you find a job that is not only right for your skillset, but which will enable you to reach your long-term career goals.
Internship and Non-Internship Tracks
Full-Time MS students can choose between internship and non-internship tracks to accommodate students with differing goals. The non-internship track has a shorter timeline, but the benefits of the internship track are many.
Learn more about outcomes for Simon graduates.
Explore some of the top career destinations for MS graduates and take a deeper dive by downloading our 2022 MS Career Highlights Report.