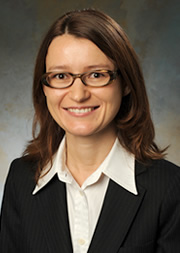 Area(s) of Expertise
Economics and Management
Pricing
Bio
Professor Miklós-Thal holds a PhD in economics from the Toulouse School of Economics, France. Prior to joining the Simon School in 2009, she was an assistant professor of economics at the University of Mannheim, Germany, and a visiting scholar at the MIT Sloan School of Management. Miklós-Thal currently serves as a Co-Editor of the International Journal of Industrial Organization and as an Associate Editor of Management Science.
Courses

Advanced Pricing

Industrial Organization Theory

Game Theory for Managers
Research Interests

Professor Miklós-Thal's research spans industrial organization, marketing, and personnel economics. She is particularly interested in cartel pricing, pricing strategies in intermediate-goods markets, the impact of various marketing strategies on consumer quality perceptions, and reputational incentives in labor markets. Miklós-Thal's research has been published in various economics and management journals, including Management Science, Marketing Science, the Journal of Marketing Research, the Journal of the European Economic Association, The Economic Journal, The RAND Journal of Economics, American Economic Journal: Microeconomics, and Games and Economic Behavior.
Teaching Interests

Professor Miklós-Thal teaches classes in the areas of pricing and game theory to MBA and MS students. She was named to the school's Teaching Honor Roll multiple times.
Publications

The Economics of Dual Pricing in Vertical Agreements

2022

Concurrences Review

Input Price Discrimination by Resale Market

2021

RAND Journal of Economics

Third-Degree Price Discrimination in Oligopoly with Endogenous Input Costs

2021

International Journal of Industrial Organization

Pass‐Through as an Economic Tool ‐‐ On Exogenous Competition, Social Incidence, and Price Discrimination

2021

Journal of Political Economy

Collusion by Algorithm: Does Better Demand Prediction Facilitate Coordination between Sellers?

2019

Management Science

Comments on "Vertical Contracts and Endogenous Product Selections: An Empirical Analysis of Vendor Allowance Contracts" by Sylvia Hristakeva

2018

2017 Quantitative Marketing and Economics workshop

What are We Really Good At? Product Strategy with Uncertain Capabilities

2018

Marketing Science

Learning in Labor Markets

2017

Edward Elgar Publishing

Private Contracting with Externalities: Divide and Conquer?

2017

International Journal of Industrial Organization

Naked Exclusion with Private Offers

2016

American Economic Journal: Microeconomics

Career Prospects and Effort Incentives: Evidence from Professional Soccer

2016

Management Science

Belief Precision and Effort Incentives in Promotion Contests

2015

Economic Journal

The Value of Recommendations

2013

Games and Economic Behavior

(De)marketing to Manage Consumer Quality Inferences

2013

Journal of Marketing Research

Colluding through Suppliers

2012

Rand Journal of Economics

Linking Reputations through Umbrella Branding

2012

Quantitative Marketing and Economics

Buyer Power and Intrabrand Coordination

2011

Journal of the European Economic Association

Optimal Collusion under Cost Asymmetry

2011

Economic Theory

Vertical Relations

2010

International Journal of Industrial Organization

Delivered Pricing and the Impact of Spatial Differentiation on Cartel Stability

2008

International Journal of Industrial Organization